Survey results article sample: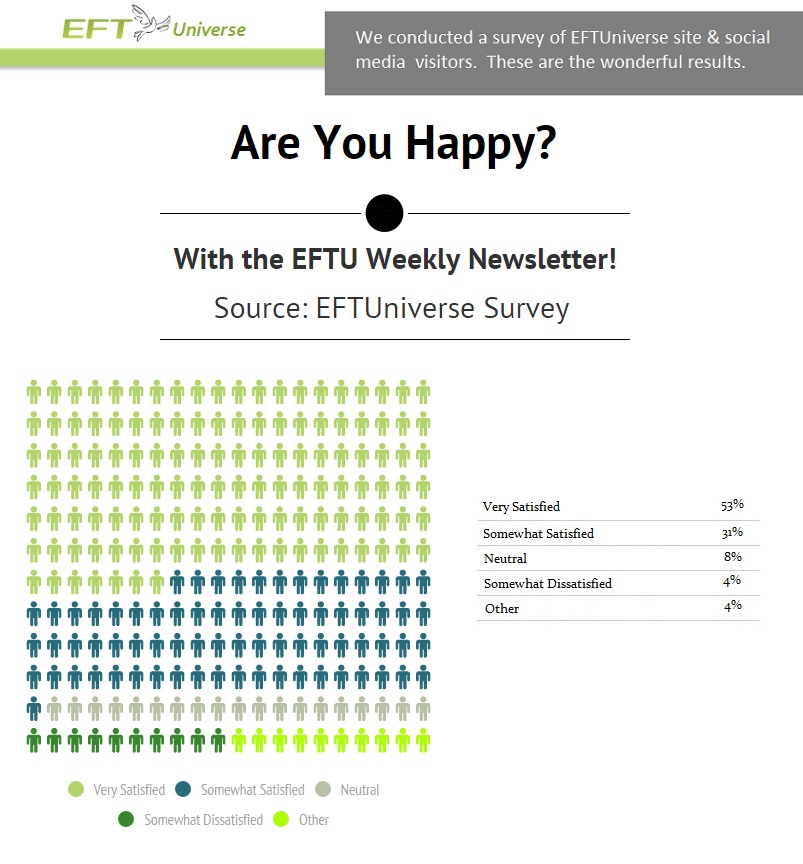 "Very Satisfied" was how satisfied 53% of the EFT Universe newsletter subscribers feel about the weekly EFT Peak Insights newsletter.
The survey was carried out by EFT Universe staff, based on a template provided by Survey Monkey, an online survey development cloud-based company.
"Somewhat Satisfied" was the response by 31% of the respondents with 8% feeling "Neutral" about the weekly newsletter.
Only 4% of the survey respondents felt "Somewhat Dissatisfied" while another 4% cited "Other."
Why Offer a Newsletter at All?
The purpose of the EFT Universe Insights Newsletter is to stay intimately connected to the EFT community and let subscribers know what is happening at EFT Universe. According to a Pew Internet Survey, almost 9 in 10 adults go online to check email, more often than they shop online or visit social-media sites, so it is a great way to stay connected to a loyal fan base.
People who are interested in EFT enjoy learning more about energy psychology and sharing their EFT experiences, and the newsletter provides this for them.
EFT Universe GM, Heather Montgomery, said the popularity of the EFT Universe weekly newsletter is because subscribers like seeing the updates from Dawson Church, the recent EFT announcements and reading the shared EFT success stories that EFT trainers, EFT practitioners, and EFT fans devote their personal time and effort to writing and then submitting these stories to be shared in the newsletter for free.
"The EFT weekly newsletter is the best way to stay informed about upcoming EFT workshops and events, EFT modalities, tapping groups, changes in EFT Universe, special announcements, and upcoming special offers. Each edition includes links to help subscribers send us feedback or unsubscribe which, we feel, lets the subscriber know that we care about what they see from us," commented general manager, Heather Montgomery.
69% of the survey respondents read the entire newsletter every single week.
Founder and best-selling author, Dawson Church of EFT Universe, commented that he feels enormous gratitude for the high number of people who read the newsletter in its entirety each week. 15% of EFT Universe newsletter subscribers read the newsletter at least twice a month, while 4% read it only once a month. "I feel grateful that people take the time to read the newsletter since so many hours of dedicated work go into creating the newsletter each week," Dawson noted.
We also asked respondents to rate the different sections of the weekly EFT Insights newsletter.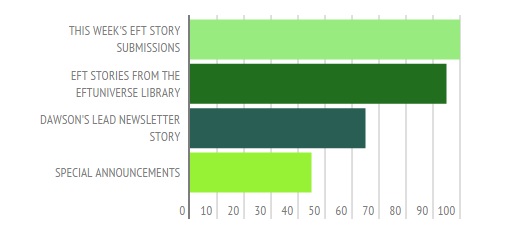 The NUMBER 1 SECTION that respondents love the most is the new story submissions in the "THIS WEEK'S EFT STORY SUBMISSIONS" section.
Number 2 is the "EFT STORIES FROM THE EFT UNIVERSE LIBRARY" section.
Number 3 is Dawson's lead story each week.
Number 4 is the "SPECIAL ANNOUNCEMENTS" section where we announce contests, giveaways, upcoming EFT workshops, new EFT practitioner publications, and exciting stories Dawson finds around the Internet.
Respondent demographic breakdown:
Does gender play a role in the responses?
• 75% – Female
• 25% – Male
How about location?
• 49% – United States
• 23% – Canada
• 12% – UK
• 10% – SA
• 06% – Other
For more insight into what our respondents are thinking, check out their comments!
• "I like the newsletter, but I would like to see the weekly newsletter cover more scientific research and more in-depth coverage of different ways to use EFT techniques and leave the selling in a different newsletter. Maybe the other newsletter could be touted as a way to bring more income to EFT Universe to expand the reach of EFT, thus we are better prepared for the marketing.
• "I read the newsletter looking for the stories from EFT practitioners and how they use EFT in their practices."
• "I enjoy reading the newsletter best when Dawson shares his knowledge."
• "I'd like to see monthly interviews (maybe the first newsletter of each month) with people prominent in the energy psychology field and what they are currently working on. For example, someone could interview Dawson about what he is currently working on (like a book, a program, a workshop, being a keynote speaker at a major event, etc.) and talk about his process and when he expects completion. This way, if it is a program of his, we get the backstory before it's ready for purchase. Or even an interview with several prominent EFT Masters over a hot topic like the shootings and what they would like to see change, or how EFT can help."
• "I would like to read more about pain, illness, and diseases that are emotionally-based. Based on the works of Dr. John Sarno, Dr. Hamer of German New Medicine, Christian Fleche, Gilbert Renaud to name a few."
• "More 'why' in the lead newsletter story – why Dawson or EFT Universe has chosen to support someone or a product in the newsletter."
• "I'd like more transparency. This survey is a good start."
• "I like the weekly newsletter and I wish you would offer more giveaways – like books, programs, or EFT-based products like coffee mugs, calendars, wristbands, t-shirts, etc."
• "I am really grateful for the newsletters, I always find something new and ideas for what I need to tap on. Thank you!"
• "Perhaps interviews with some of the other early adopters and leading lights. How has their perspective changed on EFT? What is their focus now? Have they broken any new ground?"
• "One site/newsletter/survey for those interested in the science and uses of EFT, and another for those interested in faith-based, non-measurable topics and the sales organizations that promote it."
• "More EFT and the brain and EFT and trauma."
• "Your EFT newsletter is the best newsletter I get in my email!"
• "A newsletter with EFT for athletes and sports performance."
• "I'd read anything research-related, advances in EFT and the science behind EFT. It's the most welcome and an extremely valuable resource."
• "A section in the newsletter with more information about how to get certified in EFT with easy payment options. This would be nice."
• "I've seen many articles related to performance in sports, but I haven't seen any regarding artists' performance (may I have missed them…) but as I an artist (singer/songwriter/musician) I would read more about this type of topic. I'm sure there are lots of artists out there who face important roadblocks in their creativity and performance. Many thanks!"
• "I'd like to see: 1. An article indicating a "wow", or surprising/unexpected result from an EFT Session with an International flavor. 2. An EFT-related Competition/Quiz!"
We love feedback and want to thank everyone who was kind enough to contribute to this survey. We received many responses and input on what both are working and not working for our EFT fans.
Thank you.
—————
This article was originally posted on EFTUniverse. If you would like to participate in future surveys, please feel free to contact me here.